Product information
Liquid nitrogen generator - list
Liquid nitrogen generator
Liquid nitrogen generator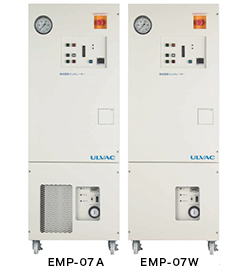 Air/Water Liquid Nitrogen Generator
EMP-07A / EMP-07W
FEATURES
◯LN2 Production Capacity
8L/day(60Hz)
6L/day(50Hz)
◯Air Processing Capacity
5.2m3/day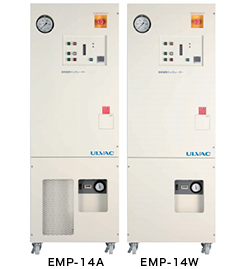 Air/Water Liquid Nitrogen Generator
EMP-14A / EMP-14W
FEATURES
◯LN2 Production Capacity
14L/day(60Hz)
14L/day(50Hz)
◯Air Processing Capacity
5.2m3/day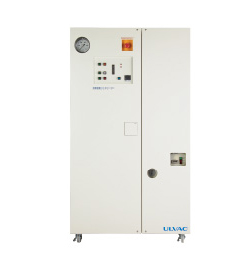 Liquid Nitrogen Generator
EMP-20W
FEATURES
◯LN2 Production Capacity
20L/day(60Hz)
19L/day(50Hz)
◯Air Processing Capacity
13.0m3/day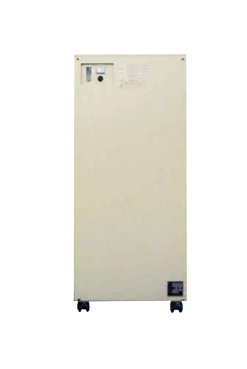 GN-10i / GN-15i
Nitrogen gas generator(PSA)
GN-10i
GN-15i
Purity of Produced Gas
99%(N2+Ar)
N2 Max. Flow Rate
10NL/min
15NL/min
Pressure
0.2MPa
Dew Point
≦-60℃
Ambient Temperature
5〜40℃
Relative Humidity
10〜80%RH
Dimensions(W×D×H)
400×460×900mm
460×520×1015mm
Weight
Approx.60Kg
Approx.90Kg
Power Supply
100VAC 1 phase
Power consumption(50Hz/60Hz)
Approx.0.4kW
Approx.0.8kW
Breaker capacity
≧15A
≧20A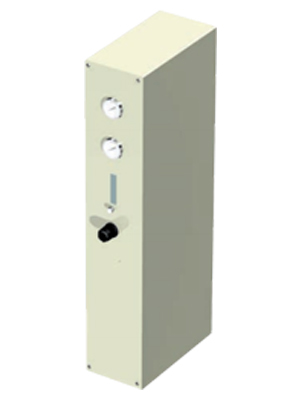 IM-120
Nitrogen gas generator
(Membrane Separated)
| | GN-10i |
| --- | --- |
| Type | Common for all types |
| Pressure | 0.2MPa |
| Flow Rate | 5〜20NL/min |
| Oxygen | ≦1.2% |
| Dew Point | ≦-50℃ |
Under atmospheric pressure:
| | |
| --- | --- |
| Pressure | 0.5MPa〜1.0MPa |
| Flow Rate | ≧120 Nℓ/min |
| Oxygen | ≦1.2% |
| Dew Point | ≦-17℃(With refrigerator type dryer) |
| Condition of Air | Oil-free |
※With air supply type, additional space to install nitrogen gas generator (membrane separation)
is necessary. The dimensions are W150 x D300 x H800 mm, and the weight is 19kg.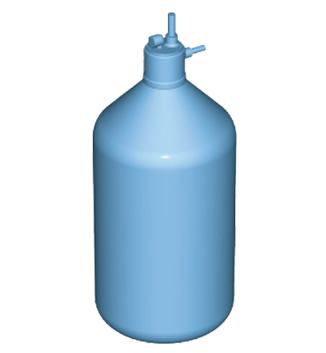 Automatic supply system
Configuration
●Capacitance Type Liquid Level Detector
●Adaptor for Supply Container
●Level Indicator Box
●Liquid Level Detector Cable (Max. 10 m)
●Annealing Tube with Simple Insulation (Max. 10 m)
※Capacitance type liquid level detectors and the adaptors will be designed to fit users' containers.
※Automatic supply system cannot be attached to some types of containers or places.
※Capacitance type liquid level detectors might cause noise depending on containers. Please contact us about the container's specications.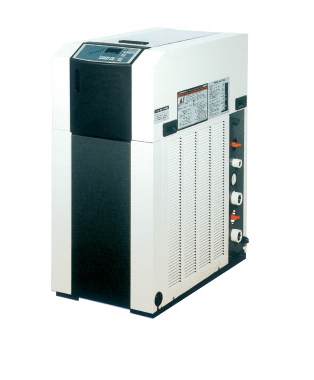 RKE1500B1-V
Cooling Water Circulator(Unit Type)
【For All Models】
| | RKE1500B1-V |
| --- | --- |
| Measurable Range | 0〜25% O2 |
| Dimensions | W400×H850×D966mm |
| Weight | 96Kg |
| Power Supply | 200 VAC 3 phase |
| Power consumption | 2.3kW(50Hz)/2.4kW(60Hz) |
| Breaker capacity | ≧15A |
Approx.0.4kW
Approx.0.8kW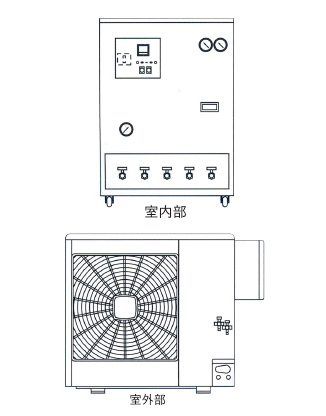 KCW-2S/3S
Cooling Water Circulator(Separated Type)
KCW-2S


(【1】EMP-07W、EMP-14W)

KCW-3S


(【2】EMP-20W)

Indoor
Dimensions
W600×H880×D550mm
Weight
87Kg
Outdoor
Dimensions
W792×H600×D300mm
W1100×H800×D315mm
Weight
52Kg
70Kg
Power Supply
200 VAC 3 phase
Power consumption
approx.2.38kW(50Hz)/
approx.2.69kW(60Hz)
approx.3.33kW(50Hz)/
approx.3.82kW(60Hz)
Breaker capacity
≦30A
※The installation fees vary depending on areas or places. Please contact us for detail.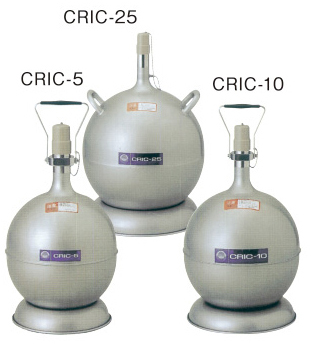 CRIC-5/10/25
Liquid Nitrogen Storage Vessel CRIC Series
CRIC-5
CRIC-10
CRIC-25
Capacity
5ℓ
10ℓ
25ℓ
Dry Weight
3.5Kg
6Kg
13.5Kg
Weight When Filled
7.5Kg
14.1Kg
34.2Kg
External Diameter
266mm
335mm
435mm
Internal Diameter of Filler Port
24mm
Height
460mm
550mm
650mm
Evaporation Losses
0.32ℓ
⁄day(6.4%)
0.36ℓ
⁄day(3.6%)
0.5ℓ
⁄day(2.0%)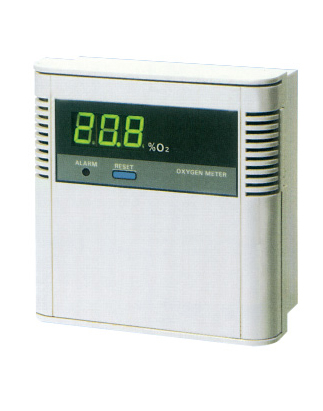 MG-1000
Oxygen Density Alarm
MG-1000
Measurable Range
0〜25% O2
Alarm Output
Alarm Density Fixed to 18%
Contact (2 circuits) and buzzer
Operating Conditions
Ambient Temperature 0 - 40℃
Relative Humidity 30 - 80 %
(no condensation)
Dimensions
W120×H120×D55mm
Weight
Approx.500g
Power Supply
AC100V
Breaker capacity
13VA
Inquiries about Products
Please feel free to contact us about our product.
Our consultants will propose plans that fit your needs.